Monday, September 28, 2015 at 10:16AM
1p36 is a syndrome that affects thousands of children, teens, adults and their families. 1p36 Deletion Syndrome affects up to 1 in 5000 births. It is a genetic condition where a small amount of genetic material is missing (deleted) at the tip of the short arm of the chromosome 1.
This missing chromosome results in a variety of issues, including:
· Seizure disorder
· Growth/feeding problems
· Developmental and intellectual disabilities
· Congenital malformations
· Cardiomyopathy and thyroid issues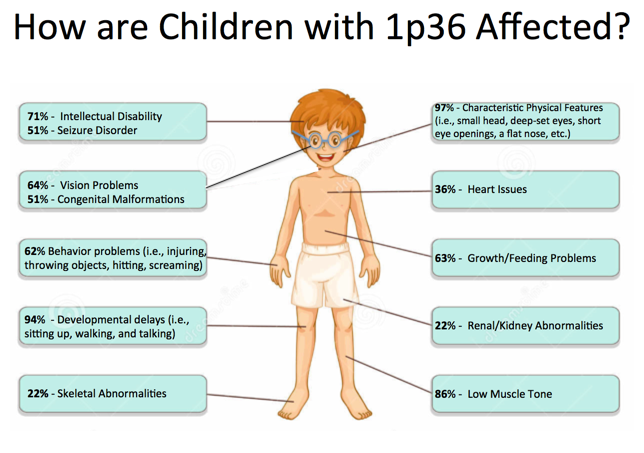 These are just a few of the many issues that affect those born with 1p36 Deletion Syndrome and their families.
Please help us bring families and communities together in support and hope.
The 1p36 Deletion Support & Awareness Organization will be holding its annual conference at the Four Points Sheraton in San Diego, CA from July 28th- July 30th, 2016.
This conference is the only one of its kind where parents and families of those with 1p36 Deletion Syndrome and medical professionals with an interest in the syndrome can come together from all over the world, under one roof, to learn the most current, recommended care and advocacy strategies and hear first-hand the latest in research. All money donated goes directly to helping families in need.
Your generous donation can help change lives today — and tomorrow.
We need your help to make this conference a success. Our goal is to raise $20,000 to help cover the cost of putting on the conference. We are designated as tax-exempt under section [501(c) 3] of the Internal Revenue Code. Contributions are tax-deductible to the fullest extent of the law.
Thank you for supporting 1p36 Deletion Support and Awareness.
Comments Off
|
Email Article
Print Article
tagged
conference